Performance Reviews and 360° Feedback
IceHrm Performance Module contains all the tools and features you need to conduct meaningful reviews that will be beneficial to you and your employees.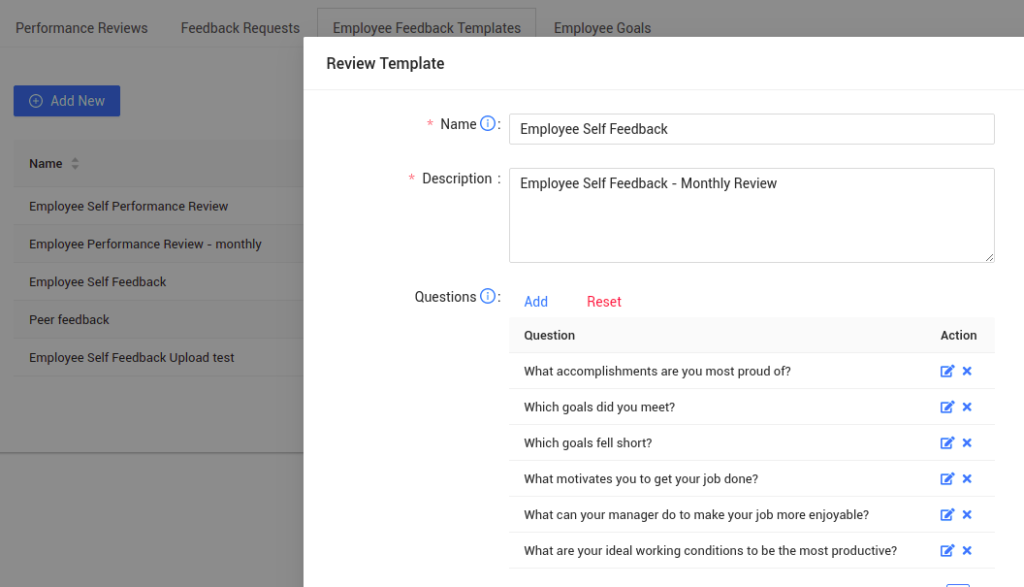 Conduct Meaningful Reviews With Customized Performance Evaluations.
IceHrm lets you create customized templates so you can conduct impactful and meaningful performance reviews that suit your organization. You can choose which types of questions or field types should be included in your performance evaluation template.
Once you have created the necessary templates, you can create performance reviews for employees with the templates. When creating performance reviews, you can add notes that can be helpful for the performance review as well.

Let Employees Provide Self Feedback
Once the performance evaluation templates are created, you can assign these to your employees. Your employees will be able to log into their accounts, reflect on their performance and provide self-feedback.
The employee will be able to view reviewer feedback, employee goals, input progress of employee goals, view peer feedback, and so on.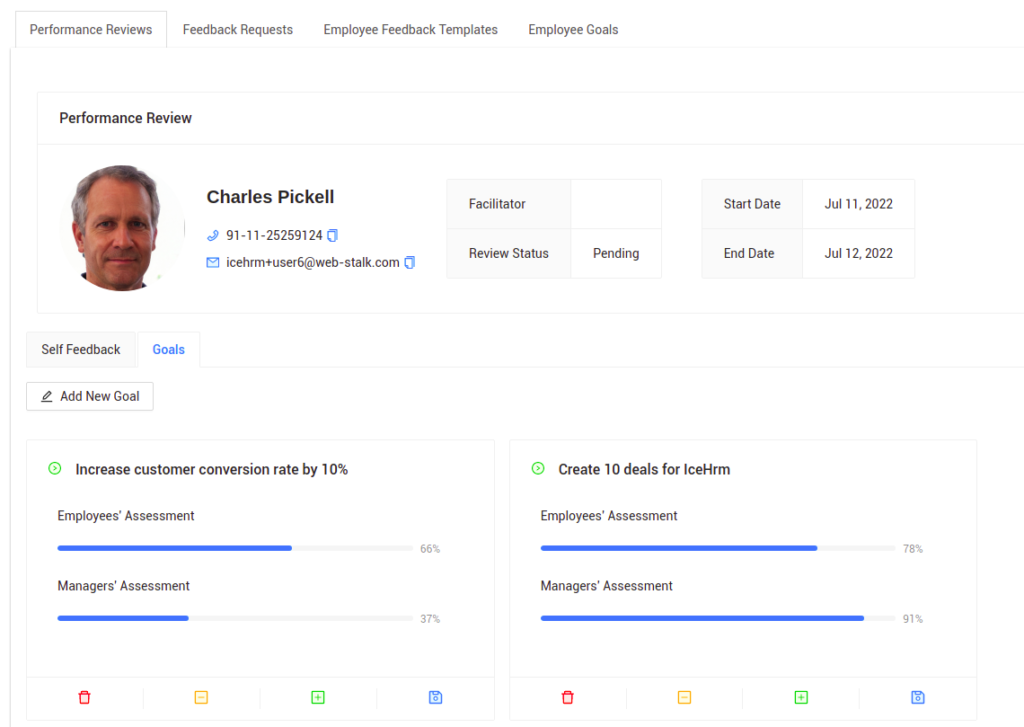 Set Realistic Goals With IceHrm
Setting employee goals has a massive impact on employee performance and helps guide employees in the right direction. Using IceHrm you can create goals for employees and keep track of the progress of these goals as well.
Once an employee goal is added, the employee as well as the manager can input the progress of the goal. This will help both the employee and manager to review the progress correctly and to identify whether both of them are on the same page regarding the progress of the goals.

Monitor All Employee Goals At One Place
With IceHrm, you can monitor all your employee goals in one place. You can view the progress of each employee goal, filter goals by the employee and so much more.
Having all the employee goals with the progress bars in the same place saves you time and makes analyzing and monitoring employee progress easier.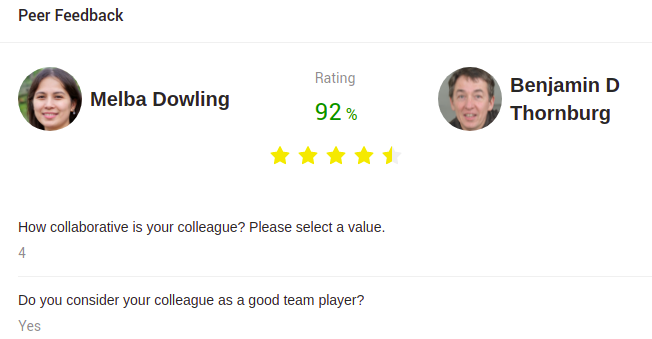 Peer-to-peer Feedback
Using IceHrm you can easily conduct peer-to-peer reviews with a few clicks. Peer reviews help employees gain an understanding of their weaknesses as well as strengths.
You can create peer feedback that suits your requirement and assign these to employees. Once the peer feedback is submitted the employee, the manager can view the feedback results.

Reviewer Feedback
With the help of peer feedback and employee self-feedback, the reviewer can provide feedback to the employees. This option can even be used to remind employees of missing feedback or to note down important information for future reference.
This feedback can be viewed by both the reviewers and the employee.